Remember the last time you tried to give your dog a bath in the tub?
More water ended up outside of the tub and you ended up just as wet as the dog, with hair everywhere.
There is a better way!
Our Evolution dog washing system makes washing your dog a walk in the park. You will really save time and money by using our warm water, high quality shampoos and conditioners injected directly through the wash nozzle, and professional groomers' dryers.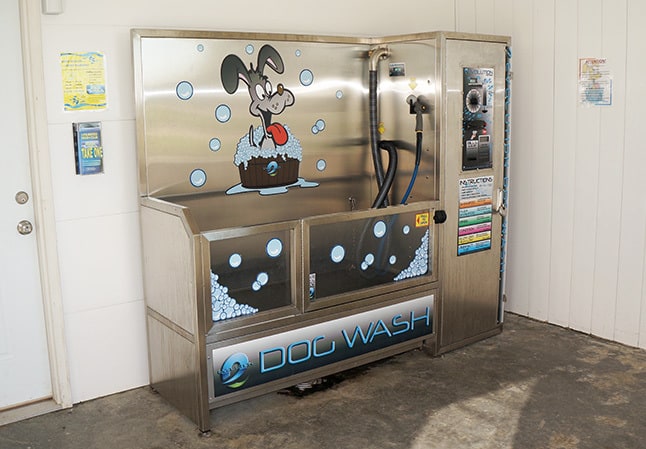 Pet Wash Instructions:
Enter our climate controlled wash room anytime 24/7.
Insert your money using cash, coin, or any major credit card to start the wash.

$10 to start for 10 minutes of time, (compare that to the cost of groomers).
Add more money while the timer is running to extend wash time if needed.

Clean tub: For your pet's protection, you may clean tub with disinfectant to sanitize pet wash.
Load your dog on to the platform, and tether them with the chain to give you waist high cleaning that saves your knees and back. The platform drains all water and hair away so your dog never stands in dirty water.
Shampoo: Choose between our vet-grade oatmeal shampoo, flea and tick shampoo, or both if desired.
Rinse out shampoo: Rinse pet's coat thoroughly after each shampoo application.
Condition: Use conditioner with moisturizer for a healthy coat.
Rinse out conditioner: Rinse thoroughly after using conditioner.
Dry: Choose between low and high blow-dryer settings.

For additional drying, shammies are sold in a vending machine.

Ponchos are also available for purchase in case your dog needs a bath while you're in your Sunday best.

Clean tub: T

o respect the next tub user, use disinfectant to rinse tub walls and floor.
Demonstration of Dog Wash
Pet Wash Rules:
Pet wash is restricted to one user at a time. Please remain outside until wash room is cleared.
Pet must always be on a leash when not restrained in wash tub.
Slippery/wet conditions are present. Use Caution!
No smoking inside pet wash room.
If equipment is found to be operating incorrectly or stops working during use, contact 573-220-8768 immediately.
Magic Car and Pet Wash, its owners or employees, shall not be held responsible in any way for injury or damage to pets, their owners or care takers. Enter premises and wash pets at your own risk. Your pet is your responsibility. Maintain control of your pet at all times.